The Power Rankings feature some fairly major changes this week.
Bishop Diego has held on to the top spot, but beneath the Cardinals, there's been some jostling.
Mission Prep has taken hold of the No. 2 spot after Santa Barbara lost a tough one to Oxnard Pacifica. The Dons are now in third place.
St. Joseph has seen a major jump. The Knights were eighth last week following their loss to Paso Robles. But after a 39-21 shellacking of Arroyo Grande, I've brought the Knights back up to No. 4, jumping even Paso Robles, which is No. 5 this week. 
Arroyo Grande falls a spot to No. 6 after the loss to the Knights and Nipomo has finally dropped. After a 6-0 start had Nipomo in fourth, the Titans are now in seventh after the 19-12 loss to Paso Robles. Nipomo was also dealt another league loss this week as its game against St. Joseph was canceled due to COVID-19 protocols, forcing Nipomo to take a loss. 
A very good Santa Ynez team is now in eighth after losing a heartbreaker to a very good Buena team. The Bulldogs scored in the final seconds to beat Santa Ynez 25-19. 
Lompoc has fallen to No. 9 after its 35-31 loss at Oxnard Rio Mesa. Righetti has held on to the No. 10 spot after its 20-6 win over Pioneer Valley.
These rankings only include teams in Santa Barbara and San Luis Obispo Counties.
The Power Rankings:
No. 1: Bishop Diego (5-1, vs. Newbury Park)
Last week: No. 1. Bye. CalPreps state ranking: 50.
The Cardinals have had a firm grip on the top spot for weeks and shouldn't have too much trouble maintaining it with the Camino League slate starting up.
No. 2: Mission Prep (6-0, vs. Morro Bay)
Last week: No. 3. Beat Santa Maria 28-7. CalPreps ranking: 196.
Mission Prep is unbeaten, but the scores haven't been terribly impressive with a three-touchdown win over Santa Maria following the 27-7 win over Atascadero. With the new CIF playoff divisions format coming up, Mission Prep might be a team in a tough position. As it stands now, Mission Prep would be in a tough Division 2 bracket. The Royals would have a much better shot at a CIF title in Division 3.
No. 3: Santa Barbara (5-2, vs. Oxnard)
Last week: No. 2. Lost to Pacifica 24-21. CalPreps ranking: 210.
It's been incredibly difficult trying to figure out where the Santa Barbara schools rank. Santa Barbara had won five straight to look like one of the area's top teams, but the Dons lost a close one to Oxnard Pacifica, a team that had struggled most of the year. 
No. 4: St. Joseph (3-4, game vs. Nipomo canceled)
Last week: No. 8. Beat Arroyo Grande 39-21. CalPreps ranking: 270. 
St. Joseph probably played its most complete game of the season in the win over Arroyo Grande last week. Is this the real St. Joseph? Can they finally put it all together? I guess I'm betting on them to do so. 
It's not easy ranking the Knights ahead of Paso Robles, but I feel it's defensible. 
No. 5: Paso Robles (4-2 vs. Pioneer Valley)
Last week: No. 7. Beat Nipomo 19-12. CalPreps ranking: 296.
Leo Kemp last week: 39 carries, 203 yards and three TDs. Dude is a stud. Pioneer Valley's defense is tough, but Kemp should be able to wear them down. I would like to see Pioneer Valley's Adan Rubalcava and Kemp go at it..
No. 6: Arroyo Grande (4-3, at Righetti)
Last week: No. 5. Lost to St. Joseph 39-21. CalPreps ranking: 364. 
The Eagles' four-game win streak was snapped last week. They looked absolutely listless for most of the first quarter and woke up some there afterwards. Mike Hartman's team should be able to rebound Friday at Righetti.
No. 7: Nipomo (6-2, Game vs. St. Joseph canceled)
Last week: No. 4. Lost to Paso Robles 19-12. CalPreps ranking: 348.
A couple losses may not be the end of the world for the Titans. They are currently in Division 3, but could drop down to Division 4 once the playoffs start. They could make some noise in that division. 
No. 8: Santa Ynez (5-2, vs. Ventura)
Last Week: No. 7. Lost to Buena 25-19. CalPreps ranking: 302.
The Pirates lost that heartbreaker at Buena last week and have to regroup to take on a similarly tough Ventura team this week. 
No. 9: Lompoc (3-4, at Pacifica)
Last week: No. 8. Lost to Santa Barbara 44-38. CalPreps ranking: 344.
Four straight losses by 15 total points. Again, the sky isn't falling in Lompoc. The defense needs to be overhauled and the Braves are feeling the after effects of the pandemic on that side of the ball. Not sure how the playoff situation shakes up, but I expect Lompoc to be competing for league and CIF titles next year in the Central Section.
No. 10: Righetti (1-5, vs. Arroyo Grande)
Last week: No. 10. Beat Pioneer Valley 20-6. CalPreps ranking: 532.
Hey... the Warriors finally got a win. Can they follow it up with another against Arroyo Grande? We'll see. This has been an emotional year for this talented Righetti team, but I'm excited to see how these guys play for each other and finish this season out. They're a top seed in Division 5 right now. 
Vote: Langley, Claborn, Valencia, Dickerson among eight up for Player of the Week
Deville Dickerson, Lompoc WR/DB/KR
Updated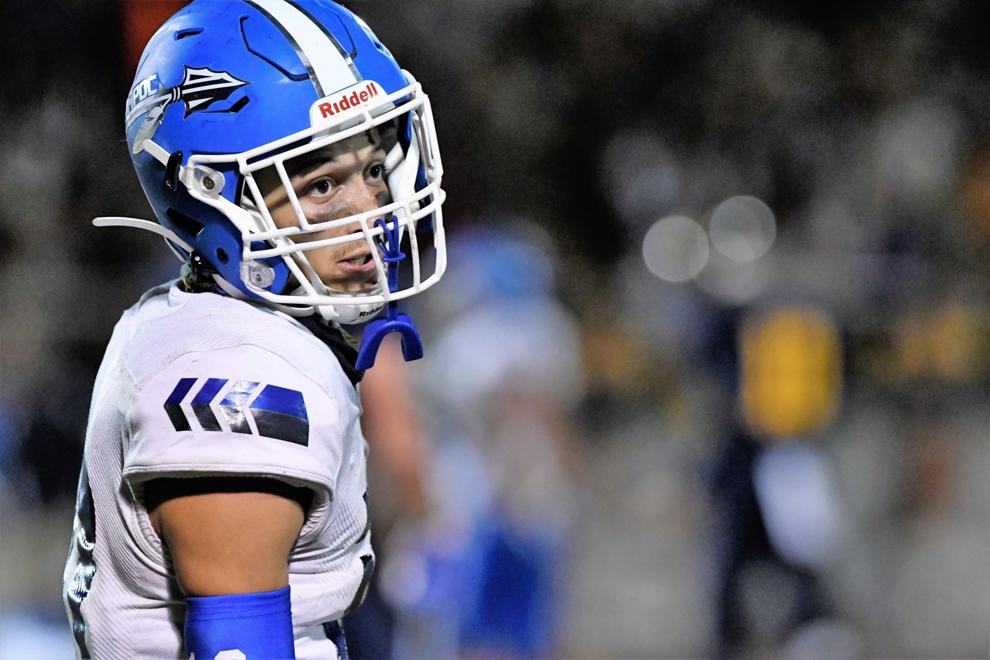 Deville Dickerson is putting together one of the more remarkable individual seasons this area has ever seen. 
The Lompoc senior scored for the seventh time on a kick/punt return in the loss to Rio Mesa. He also had nine catches for 135 yards and two plays that every coach should want a copy of for their film sessions. 
Dickerson 'hawked' two Rio Mesa players, racing nearly the entire length of the field to track the ball-carrier down and prevent touchdowns. How do you spell max effort? Easy: J-O-K-E-R. 
Deville Dickerson, Lompoc WR/DB/KR: 9 catches, 135 yards; KO return TD; 4.5 tackles, 1 TFL; 150 return yards. 
Malakai Langley, St. Joseph RB/DB
Updated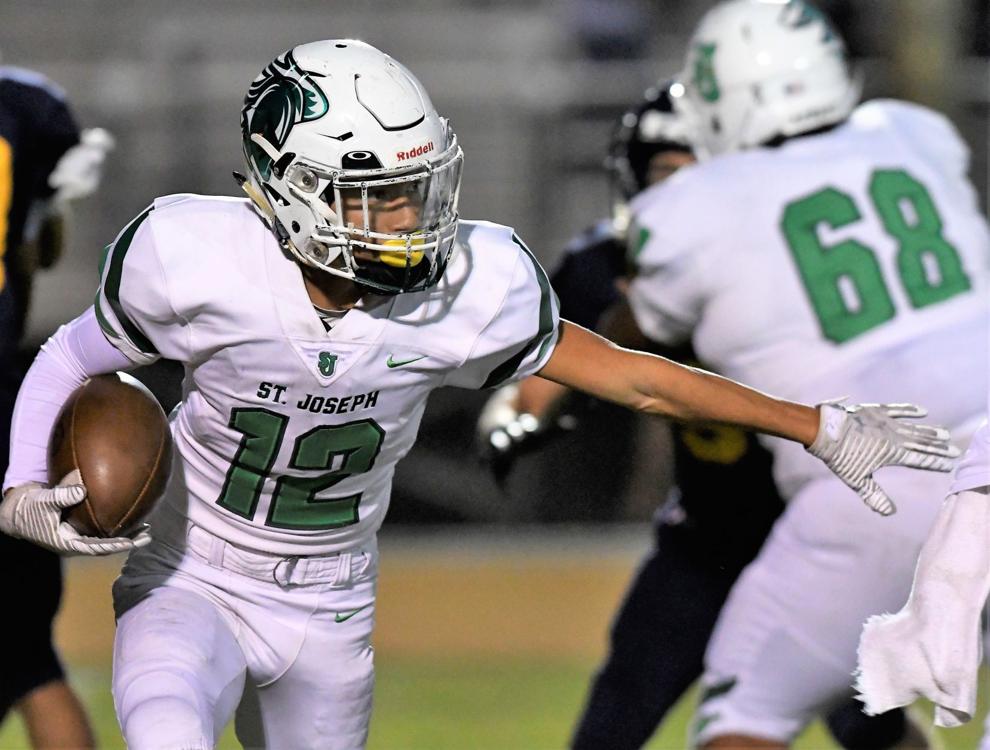 St. Joseph sophomore Malakai Langley set the tone for the Knights in their game at Arroyo Grande last Friday. He ripped off an 80-yard touchdown run on the game's very first play. St. Joseph raced out to a 21-0 lead about midway through the first quarter and never looked back in a 39-21 win.
Langley finished with 180 yards and two touchdowns on offense and also played defense and returned kicks for the Knights. 
Malakai Langley, St. Joseph RB/DB: 18 carries, 180 yards, 2 TDs; four tackles in 39-21 win over Arroyo Grande.
Braden Claborn, Righetti QB
Updated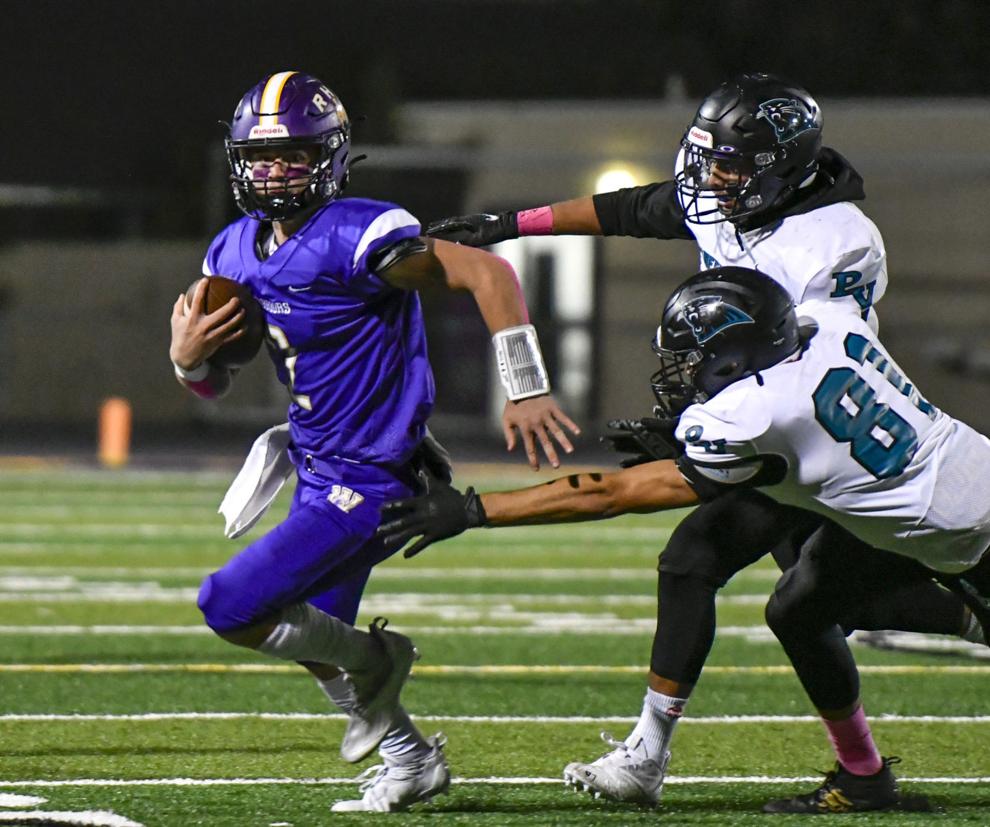 Righetti quarterback Braden Claborn didn't put up eye-popping stats Friday, but he delivered the type of performance his team sorely needed. Claborn accounted for two touchdowns in the 20-6 win over a tough Pioneer Valley defense to lead Righetti to its first win of the season against his former school.
Braden Claborn, Righetti QB: 129 passing yards, TD; 64 rushing yards, TD in 20-6 win over Pioneer Valley.
Leo Valencia, Santa Ynez K
Updated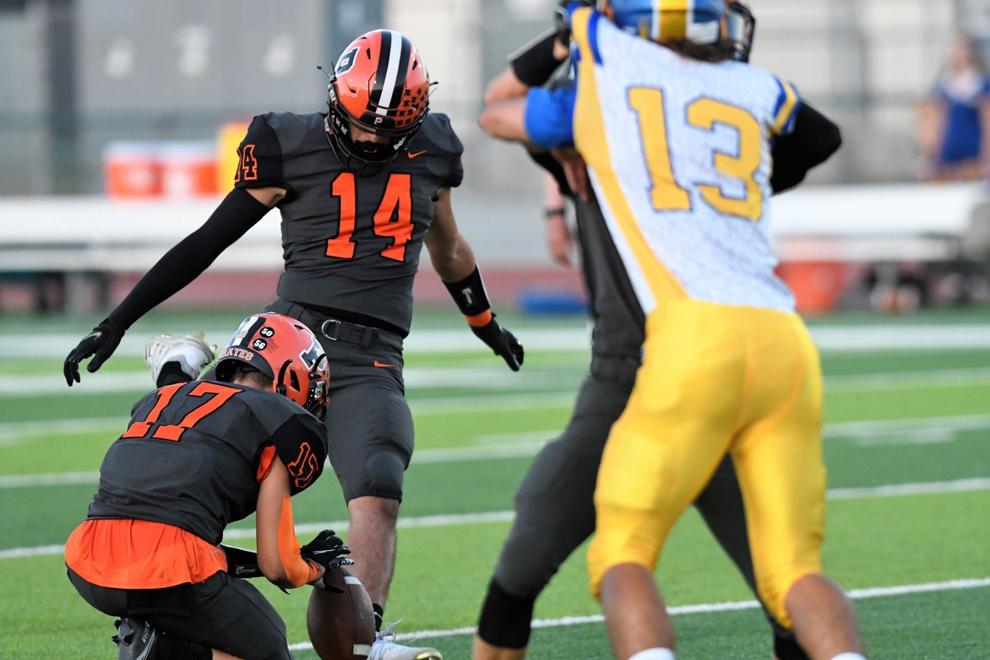 Then there's Leonel Valencia, the junior kicker at Santa Ynez. Valencia had a huge night against Buena, making all four of his field goal attempts and a PAT. Valencia's late 25-yard field goal gave Santa Ynez a 19-18 lead, but Buena scored a last-second touchdown to win 25-19. 
Valencia made all his kicks, with a long field goal of 36 yards.
Leo Valencia, Santa Ynez K: 4 for 4 on field goals, long of 36 yards, 1 for 1 on PATs, 13 kick points in 25-19 loss at Ventura Buena.
Damian Santos, Arroyo Grande TE
Updated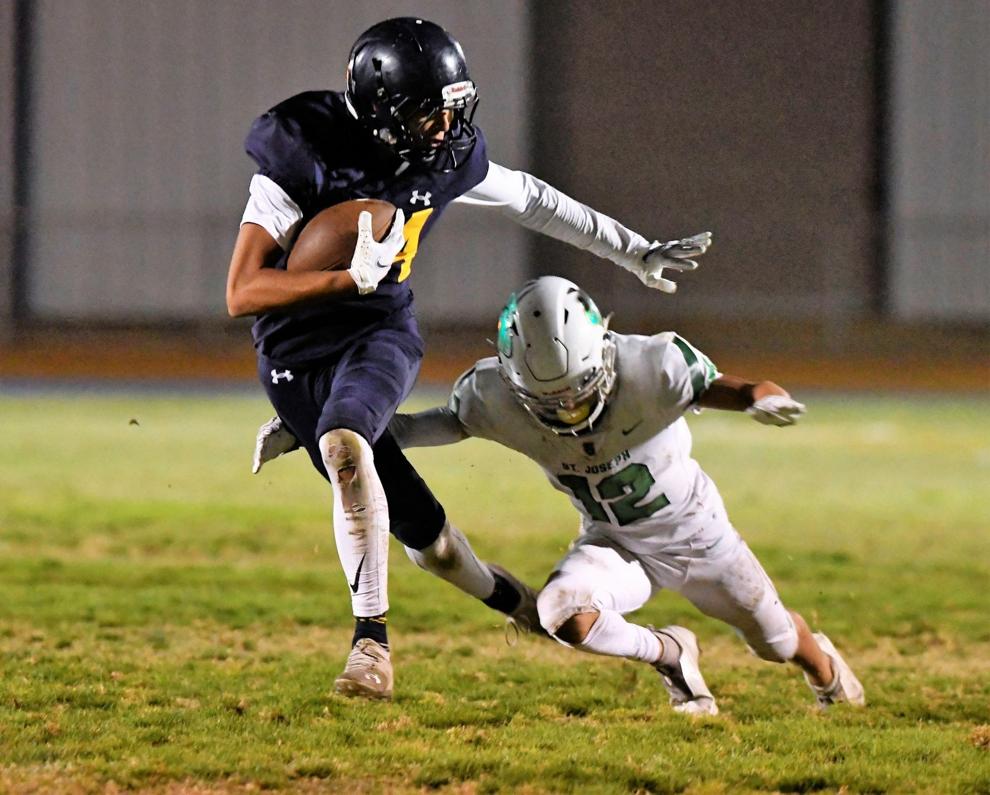 Arroyo Grande's Damian Santos has transformed into one of the top tight ends in the area and he had himself a day against St. Joseph. He caught seven passes for 130 yards and a touchdown in the loss to the Knights. 
Damian Santos, Arroyo Grande TE: 7 catches, 130 yards, TD in 39-21 loss to St. Joseph. 
Leo Kemp, Paso Robles, RB
Updated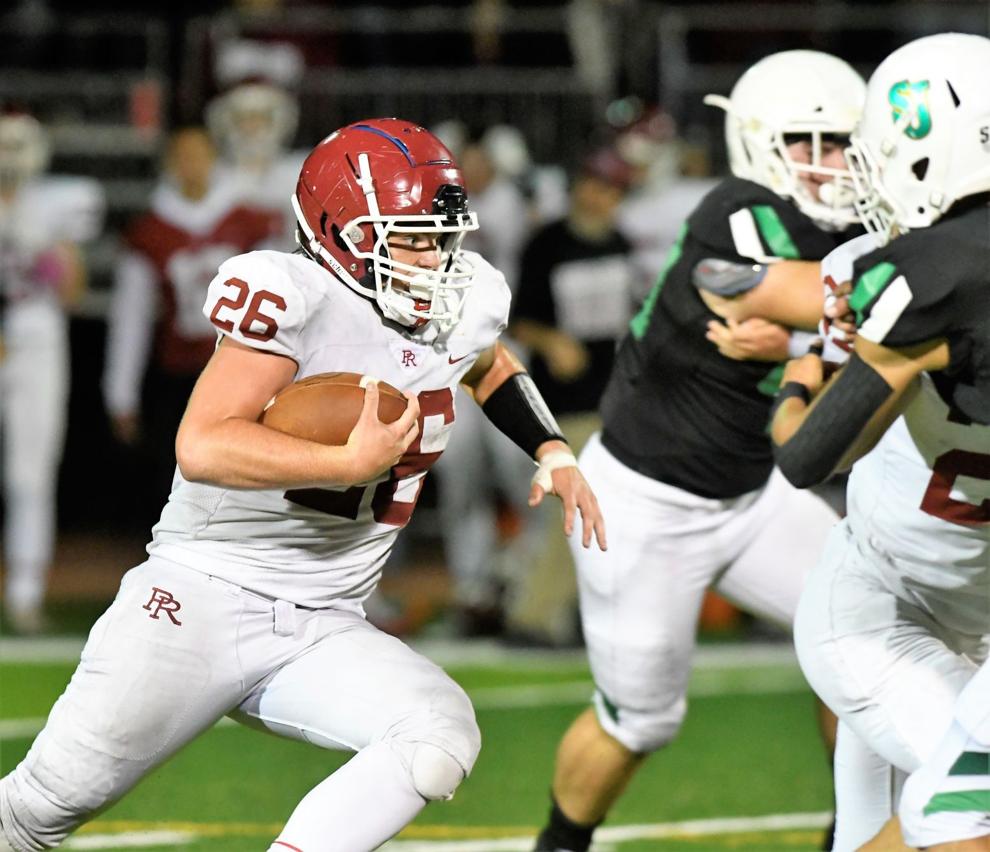 North County players aren't typically included in this contest, but Paso Robles running back Leo Kemp deserved a nod after his rugged performance against Nipomo. The Bearcats carried the ball 58 times in the 19-12 win over Nipomo and Kemp had 39 of those carries, gaining 203 yards and scoring all three of his team's touchdowns. The junior is certainly a bell-cow back. 
Leo Kemp, Paso Robles, RB: 39 carries for 203 yards, 3 TDs. 
Kyle Kuhn, Nipomo WR
Updated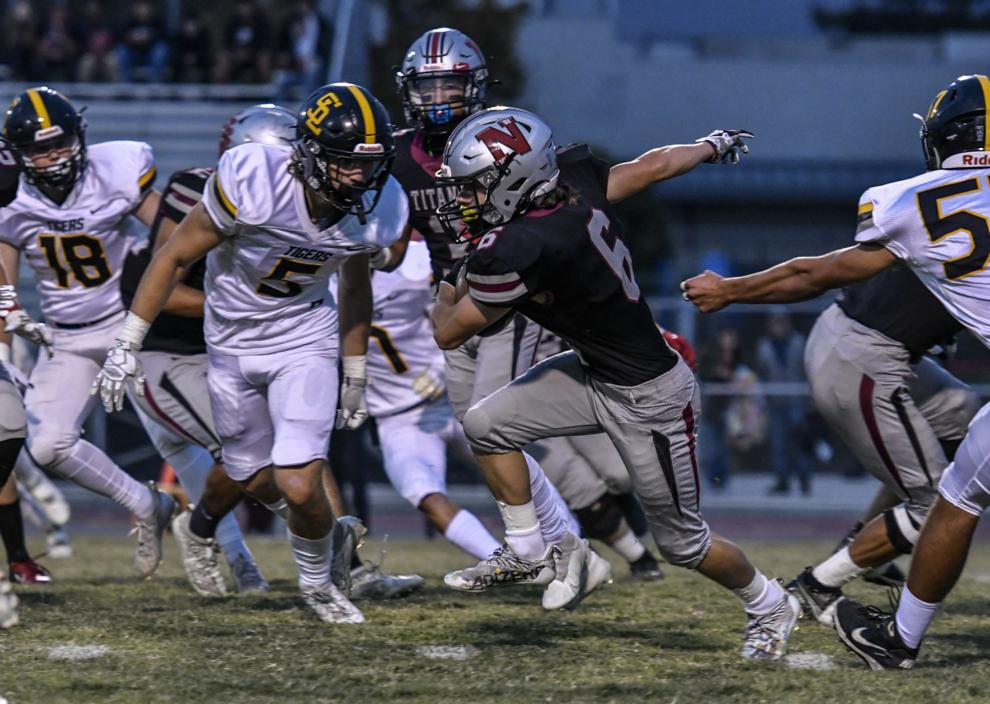 For Nipomo, yards weren't easy to come by as the Titans mustered just 232 yards of offense against the Bearcats. Kyle Kuhn was responsible for a third of those yards on his own, catching three passes for 77 yards and a touchdown in the loss.  
Kyle Kuhn, Nipomo WR: 3 catches, 77 yards, TD; 1 tackle. 
Jacob Sanders, VCA WR/DB
Updated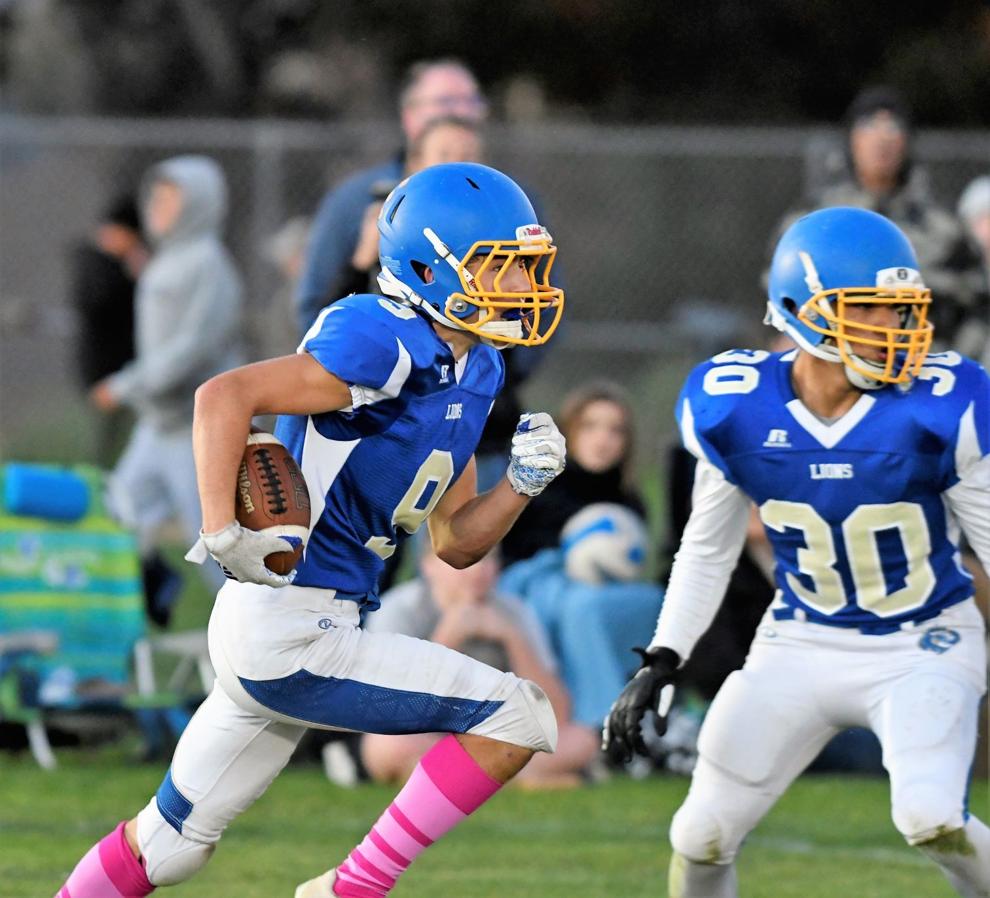 We can't forget about the 8-man realm either. VCA's Jacob Sanders, who's won the Player of the Week honor once already this year, had another big game, scoring twice on rushes, twice on interception returns and once more on a punt return. 
Sanders has scored 17 times in four games this year for the 4-0 Lions.  
Jacob Sanders, VCA WR/DB: 9 carries, 75 yards, 2 TDs; 2 INT returns for TDs; punt return TD; 5 tackles, 4 PBUs; forced fumble.