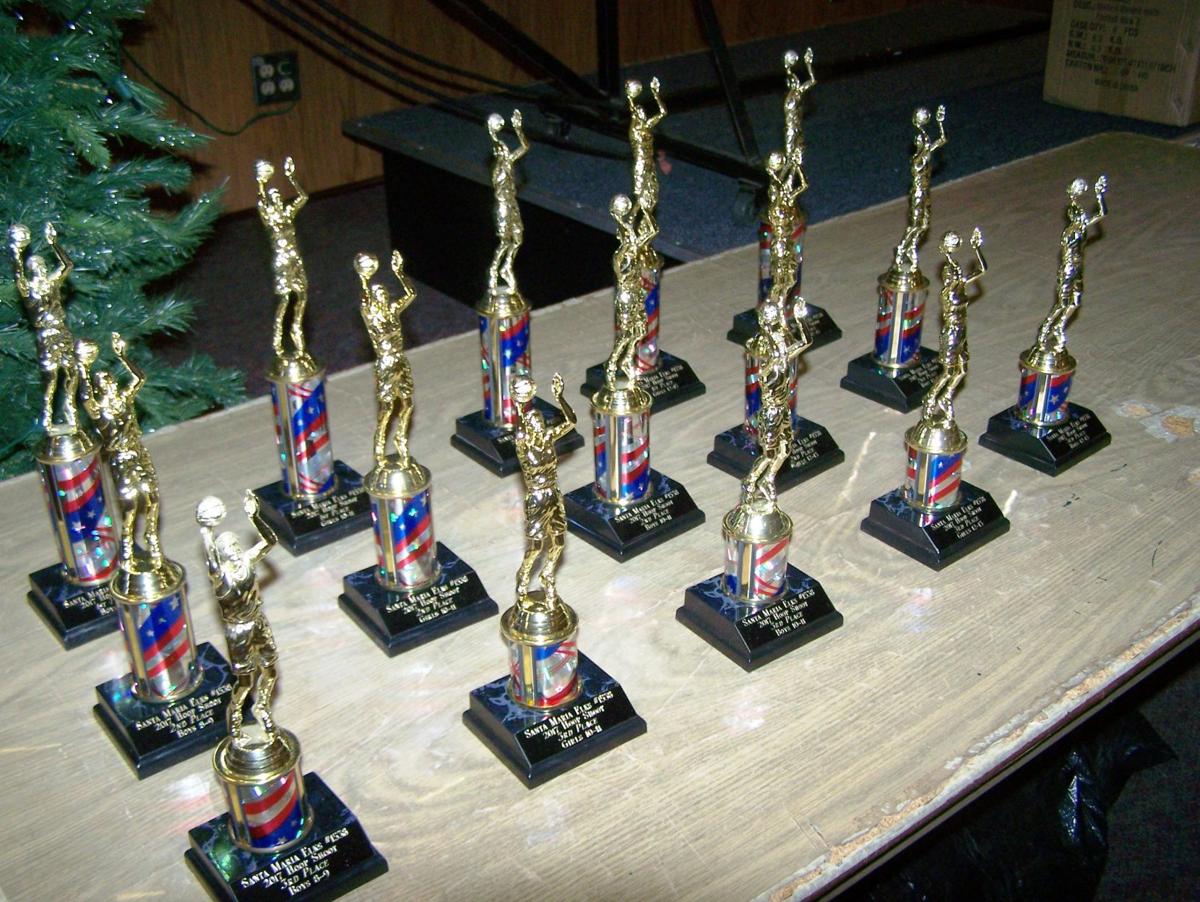 Elks Hoop Shoot set for Sunday
Santa Maria Elks No. 1538 in collaboration with the Santa Maria Recreation and Parks Department will be hosting its annual Basketball Hoop Shoot on Sunday to be held at Edwards Community Center gymnasium, located at 809 Panther Dr. Participants must be accompanied by a parent.
Registrations will be held from 9:30 to 10:30 a.m. with competition starting at 10:30. Tie-breakers will be determined at end of shoot. First-, second- and third-place winners will be acknowledged at an awards dinner held at the Santa Maria Elks Lodge on Monday, Dec. 23.
The event is open to the public at no charge and is sponsored by the Benevolent and Protective Order of the Elks of the USA.
Over three million youngsters throughout the country have entered this competition for boys and girls in the following age categories: 8-9, 10-11; and 12-13. The contestant's age group will be determined by their age as of April 1, 2020. Each contestant will have 25 shots at the hoop. The boy and girl from each age group with the best score will then advance to the district event held at Santa Maria High School on Sunday, Jan. 19, 2020, and possibly the State, Regional, and Nationals. The Nationals will be held in Chicago, Illinois.
Volunteers are always welcomed.
For more information, please contact Eddie Navarro, local Hoop Shoot chairman, at (805) 720-3581.
Lompoc baseball reunion set
A Lompoc High baseball reunion is in the works.
Former assistant coach Jimmy McKaskle, along with former longtime coach Dan Bodary and former player Tom Harmon, are organizing the event to commemorate the 1970 Lompoc High baseball team that won the CIF Southern Section championship. 
"Coach Bodary, Tom Harmon and I have tried to put together something that is a little of what we remember Lompoc used to be," McKaskle said.
A 'Lompoc style barbecue' will be served by the Kiwanis Club.
"We will have some time reserved just for ourselves and our family members, and then open it up for the those in the town who want to come and spend some time with us," McKaskle added.
As Lompoc's coach, Bodary won CIF titles in 1970, 1974, 1979 and 1993. He won 18 league championships and 615 total games over 35 years of coaching.
You have free articles remaining.
The date of the reunion is set for Jan. 18, 2020. The former team members are asked to arrive at 12 p.m. at the Schuyler River Bottom Ranch located at 1330 Barton Ave., in Lompoc. The family has donated the facility for the occasion.
Group pictures will be taken at 12:30 p.m. and from 1 to 3 p.m. team members, family and guests will mingle.
From 3 p.m. to 7 the team members, families and guests will then spend time with community members. 
Beer and wine will be available to purchase. 
McKaskle noted that he is still trying to contact former players Joe Brooks and Rueben Heredia, or Bruce Williams, the team's equipment manager.
"Most recently I was able to locate Steve Glover, who pointed me in the direction of Marc Landry," McKaskle said. "As you all know, we have lost Ted Torres and Jeff Bratz, and Marc Landry has indicated to me that his situation with cancer will keep him from being in attendance. Randy Shaw, one of our managers, has also indicated that he will not be able to be here."
Those attending can send a check payable to Dan Bodary in the amount of $17 per attendee.
Checks can be sent to Tom Harmon, 3002 Courtney Ave, Lompoc, CA, 93436.
For any more information, contact McKaskle (928) 710-1843, Bodary at (805) 588-4648 or Harmon at (805) 717-0982.
All checks must be received by Jan. 4, 2020.
Central Coast Venom Baseball seeks board members
Central Coast Venom (CCV) Baseball is seeking new board members for its 2020 season. Contact Jason Ramirez at 805-598-8204 for details.
Santa Ynez coaching openings
Santa Ynez High School is looking a head coach for the both the boys varsity and junior varsity tennis teams.
Send an email to Athletic Director Ashley Coelho acoelho@syvuhsd.org for more information and a coaching application.
Be the first to know
Get local news delivered to your inbox!