The Zebu did it.
Rodeo clown Justin Rumford's job is to entertain the thousands of people who fill the stands at rodeos across the country but it was no laughing matter when the Zebu almost ended Rumford's season, and that would have cost Rumford his chance to perform at the 76th annual Santa Maria Elks Rodeo (May 30-June 2).
Rumford, from Ponca City, Oklahoma, has been named the Professional Rodeo Cowboys Association (PRCA) Rodeo Clown of the Year for seven straight years — every year since 2012.
"It's been a good run," Rumford said during a telephone interview Friday from the Tops in Texas Rodeo in Jacksonville, Texas. "I've enjoyed it."
His shot at making it eight straight took a serious hit on Jan. 26 at the National Western Stock Show and Rodeo in Denver.
"I broke the tibia in my left leg and tore up my ACL, MCL and meniscus. It was a total blowout," said Rumford. "I went ahead and did all the damage you could think of in one shot. My leg was a wreck. My Zebu did it."
A Zebu is a miniature bull, weighing in at about 400 pounds.
"Not just a miniature bull — a miniature fighting bull. He's a very, very tiny bull and he is a mean little bugger — diabolical," said Rumford. "I added him to my act. I play with him, jump over him … things like that. But during my performance, I stepped into a hole and went down. I immediately grabbed my knee. He didn't know I wasn't playing around so he rammed right into me — wham! — and he broke my leg, but it's all good now."
Twenty of the Central Coast's most talented young performers belted out songs and burned up the dance floor Saturday afternoon, hoping to be among the 10 acts chosen to perform May 30 on opening night of the Santa Maria Elks Rodeo.
The injury didn't cause Rumford to miss any time in the arena, at least not right away.
"At first, I thought it was just an ACL sprain or something so I went and got a knee brace from Walgreens," said Rumford. "I actually worked seven rodeos with the injury. Then at the Black Hills Rodeo (in Rapid City, South Dakota), Black Hills Orthopedic was the clown sponsor. I was getting around okay but one of their doctors saw me walking funny. He said he'd take a look at my leg, they did an MRI and a couple days later I was in surgery."
Before his career as a rodeo clown, Rumford was a professional steer wrestler, competing against Los Alamos' Luke Branquinho among others.
He'd been injured steer wrestling but nothing as serious as this.
"In 2004, I blew out my right knee while bulldoggin', but it was just my ACL and MCL so that was a pretty easy fix," said Rumford. "This time they had to use plates, screws, whips, chains, bungee cords to put it back together. Well, I don't know if that's a medical fact."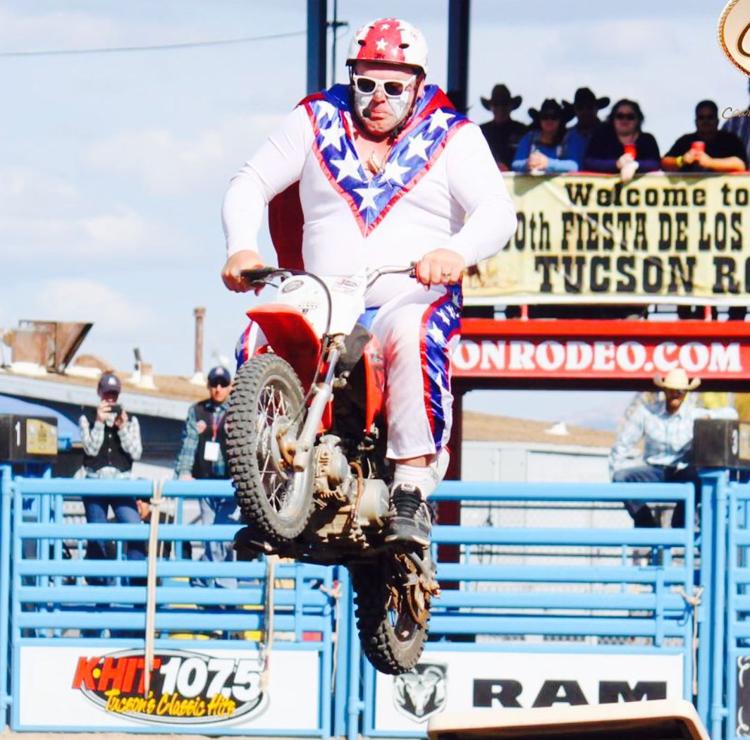 Rumford began his rehabilitation shortly after the surgery and was back in the rodeo arena in just over a month.
"They said it would take about six weeks for me to get well enough to go back to work. I worked the Austin Rodeo in five-and-a-half weeks," said Rumford. "I did everything but work the barrel and now I'm pretty much 100 % — okay, maybe 94 percent because I still can't work the barrel. By the time I get to Santa Maria, I might be able to work the barrel — who knows? If I can't do it, maybe I'll have the junior barrelman jump in."
And what happened to the Zebu?
"I won't be fully cleared by the doctors until August so he's taking a vacation. He's roaming the hills out in southeast Iowa at my friend Shad Smith's ranch," said Rumford. "You know, I never really gave him a name. I just called him Zebu. He's gotten several names since the accident like Clown Wrecker and Kneecap."
Be the first to know
Get local news delivered to your inbox!