Sutton Tompkins saved the day … and the Righetti Warriors' baseball season.
Tompkins pitched five innings of shutout relief and ignited the game-winning rally, leading the Warriors to a 3-2 walk-off victory over the Bakersfield Liberty Patriots Saturday afternoon in a CIF Central Section Division 1 quarterfinal game at Righetti High School in Orcutt.
"Sutton — hands down one of the greatest performances that I've ever seen from a pitcher," said Righetti head coach Kyle Tognazzini. "It was impressive, unbelievable."
Righetti (23-5), the division's No. 4 seed, will host No. 8 seed Bakersfield Frontier (20-10) in the semifinals on Wednesday after Frontier ousted No. 1 seed Clovis Buchanan (26-4) 1-0 on Friday.
Ryan Delgado took the mound for Righetti and had a rocky start, giving up both Liberty runs, leaving the game with the bases loaded and no outs in the third inning.
In the top of the first inning, Delgado gave up a lead-off single to Liberty's Garrett Pavletich followed by a run-scoring double to Kaleb Dickey and the Warriors were quickly in a 1-0 hole.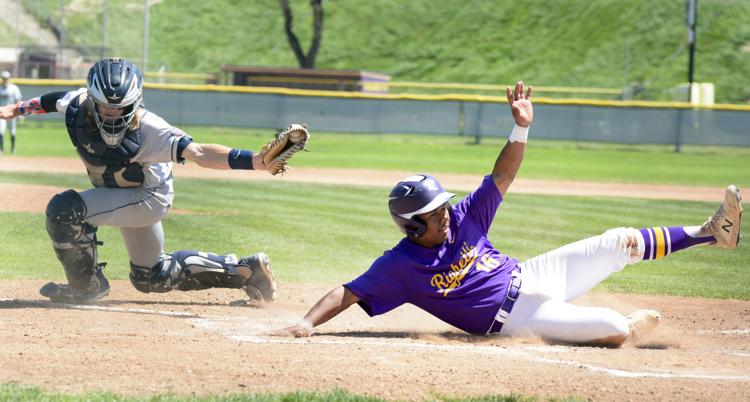 The fifth-seeded Patriots (24-8) scored their second run in the second inning.
Brady Amble singled into left field. Amble rambled to third after an attempted pickoff throw got rolled to the fence and then Amble scored on a single to left by Pavletich.
Caleb Dulay started a short to first double play to end the inning, limiting the damage to one run.
Two walks and a single loaded the bases in the top of the third and Tognazzini pulled Delgado, having him swap places with third baseman Tompkins. That was not the last to be heard from Delgado.
"I came in confident, maybe too confident," said Delgado. "But Sutton came on and got the game under control."
Meanwhile, Tompkins didn't just close the door on the Patriots — he slammed it.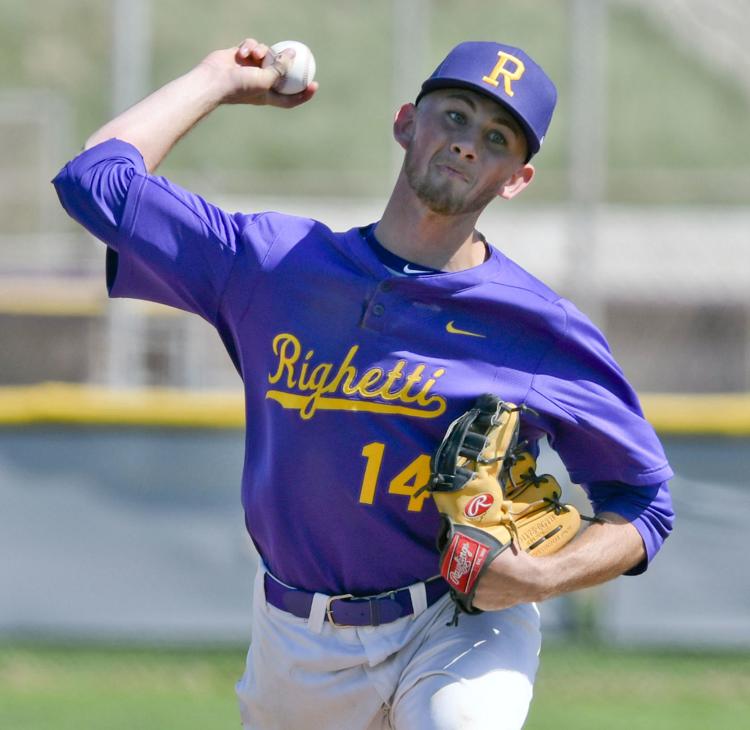 Tompkins retired the next three batters to kill the Patriots' threat.
He began with a strikeout, the first of five he threw in the game.
Tompkins was then helped by one of the best defensive plays of the game. Liberty's Will Hernandez hit a shot to Righetti first baseman Isaiah Navarro, Navarro threw to catcher Andrew Gonzalez, nailing the lead runner at the plate and then Tompkins got out of the inning on a fly to right that kept it a one-run game.
"That play at the plate, that was a big one," said Tognazzini. "Isaiah makes the throw and (catcher) Andrew Gonzalez makes the tag — that was huge for us."
"I just set it in my mind that there is no one on," said Tompkins. "Just concentrate, take it one batter at a time — get the first batter, get the second batter, get the third. I wasn't focusing on the runners on base — just the guys at the plate."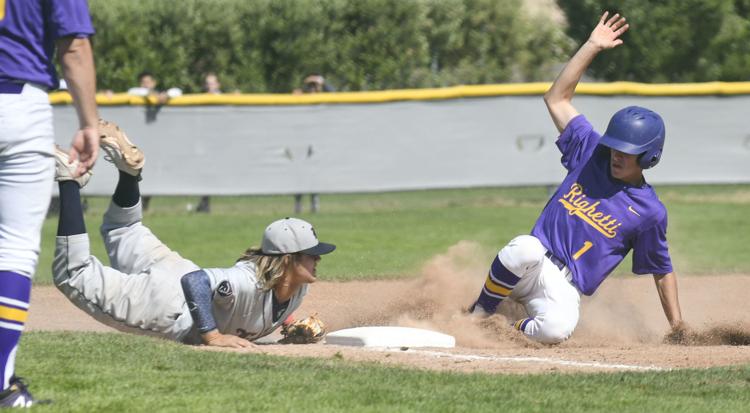 "We left some runs out there," said Liberty head coach (and former Santa Maria Indian player) Tony Mills. "You know when you do that, it's going to come back to haunt you. You can't do that against a quality team like Righetti."
After that, Tompkins was almost perfect, giving up a lead-off single in the fifth and had a runner get on base on an error with two outs in the seventh for the only baserunners he allowed.
"I was just trying to throw strikes," said Tompkins. "I know a lot of these guys can't handle my velocity so it was just concentrate on throwing strikes, relax and have fun."
The Warriors tied the game in the bottom of the third after Navarro doubled off the left field fence and came home with an unearned run after an error on Quigley Espinola's ground ball.
Righetti had runners in scoring position in both the fifth and sixth innings, but each time Liberty starting pitcher Nick Oscarson, who went the distance (10 hits, three runs, two strikeouts, three walks), induced a ground ball out to keep it a tie game … until the bottom of the seventh.
With one out, Tompkins hit a shot that nearly cleared the center field wall and Tompkins cruised into second base with a stand-up double.
"I just wanted to put the ball in play, help out my team by putting the ball in play," said Sutton "It should have been a triple."
And then the fireworks began.
Emotions ran wild with the score tied 2-2 in the bottom of the 7th with both Liberty and Righetti's dugouts clearing. pic.twitter.com/HZx9NhL0yt

— Bakersfield Sports News (@BakoSportsNews) May 11, 2019
Tompkins and several Liberty players began jawing at each other and both benches cleared, although the players from each team stayed away from each other and there was no melee. However, Tompkins was eventually tossed from the game with Bryan Rivera coming in to take Tompkins' place on second.
When order was restored, Espinola was intentionally walked, setting up a force at any base.
With two outs, Delgado blasted the game-winning hit, a walk-off single to deep center field, scoring Rivera, sending the Warriors to the semis.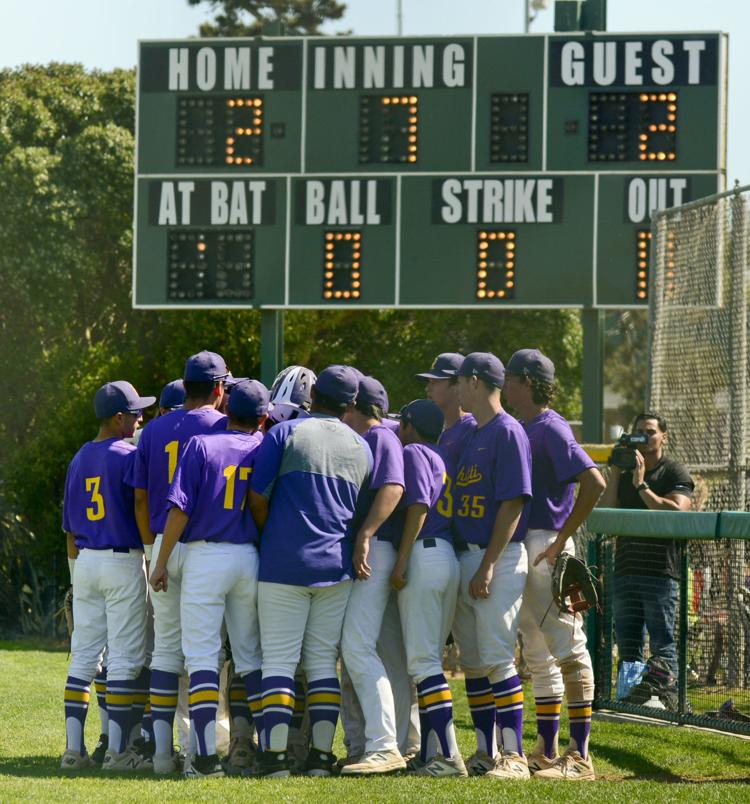 "Our guy threw well today," said Mills. "But you have to give it up to Righetti. They're a great team. They beat us — that's the bottom line."
"The last time we played these guys, I came on in relief and they beat us on a walk-off," said Delgado. "I've had walk-off hits before but they were nothing like this."
Track & Field
Ofiaeli wins CIF-SS title
Santa Ynez High School freshman Neta Ofiaeli won the CIF Southern Section Division 4 triple jump with a jump of 38-04, setting a new school record, at Saturday's Southern Section Finals at El Camino College in Torrance.
Ofiaeli also set a school record with a 12.67 run in the 100 meter dash, good for a ninth place finish.
Santa Ynez's Quincy Valle was seventh in the shot put at 34-10.25 and Alaynna Garza was eighth in the discus at 99-11.
Swimming
Reynolds sets school record in Clovis
Nipomo High School's Parker Reynolds set a new school record, finishing 11tgh in the boys 500 meter freestyle at the CIF State Championships Saturday at Clovis West High School. Reynolds finished 11th in 4:29.87.
Nipomo teammate Blake Simpson finished 13th in 4:31.54.